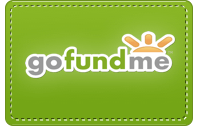 Click on logo above to go to campaign site
This campaign has been set up in an effort to help me and my family deal with a tragedy that has turned our lives upside down.
For over three years now I have lived against my will in a nursing home, alone and afraid, separated from my wife and two children, and suffering from a disease called Amyotrophic lateral sclerosis (ALS), also known as Lou Gehrig's disease or motor neuron disease (MND).
I love my daughters so much that I try not to think about them, because if I did I would just cry all the time. With our budget, we cannot afford to acquire a larger house to allow me to move back home. All the support received through this campaign will be used to finance a moving project, hopefully during this summer. A bigger house would mean that:
My two daughters, aged 7 and 10, would get their dad back home.
My wife would have the love and company of her husband.
I would no longer have to lie alone and afraid in a nursing home where I am treated cruelly.
The risk of infection, which is high in the nursing home, would be significantly reduced.
I would receive assistance and care from kind-hearted people who care about me.
I would regain my dignity, suffer less stress, grow stronger, and probably live long enough to see my daughters marry.
I have lived with ALS for eight years now, under extremely challenging circumstances, but this nursing home is draining all my energy. We need to find a house during the coming summer. Yet another Norwegian winter in this nursing home would prove too hard for me, both physically and mentally.
This website and blog contains, among other things, a photo gallery and gripping documentaries about our life. I have also posted a few articles describing the shocking and serious nature of my situation in the nursing home:
The Happiest Country In The World
In a Nursing Home
Our Story
Thirteen years ago I met the love of my life at a sports camp in Japan. I fell so deeply in love that I quit my job, sold my apartment and car, and left Norway for Japan with a one-way ticket in my pocket. We got married and had two daughters. It was the happiest time of my life.
Then I was diagnosed ALS, a terrible, devastating disease. Its cause is unknown. It is a chronic, progressively fatal disease for which no cure exists. I was just 39 years old when diagnosed, and had been healthy all my life. I knew nothing about the disease. The doctors in Japan advised me to return home to Norway because life as a foreigner in Japan with ALS would be too difficult.
With heavy hearts, we left behind everything we'd built up over six years and headed for Norway, where we would have to start over again, finding somewhere to live, furniture, a daycare center, and applying for disability benefit, etc. I was suffering from deep depression, and my wife had to deal with grief and extreme stress. She had to cope with having a husband with a fatal disease, a baby and a four-year-old to look after, in a foreign country, with close family members and friends far away. It marked the beginning of a long battle that is still going on eight years later.
Our happy family life was suddenly taken from us.
Now we are completely exhausted. For the past three years I have used a respirator and have lived in a nursing home. Our house is no longer big enough for me to move back home. We need an extra room for my carers and a large room to house me and all the medical equipment. I used to earn a good salary as an IT security expert and programmer, but eight years with ALS has meant that I've lost a lot of income. Added to that, my wife had to stay at home with our baby daughter for a few years, and being Japanese she is finding it very difficult to find a well-paid job, despite having a university education.
In a rich country like Norway, with a world-class welfare system, one would think that when a young family was struck by such tragic circumstances it would receive help. It embarrasses me to have to ask for help through this campaign when I live in Norway. There are so many poor countries in the world, with millions of people in desperate need of help. But the truth is that I too am poor and in desperate need of help. In Norway, ALS patients who live in nursing homes often lose the will to live because their situation is so unbearable and no consideration is given to their needs.
Thinking about my family makes me selfish and desperate. One way in which I am fortunate is that I am able to set up a campaign like this, and I am seizing this opportunity. I have to endure a lot of pain, and I use whatever energy I have to write this text and other postings on our website and blog in the hope of winning sympathy and enough support from anyone who reads them to make it possible for us to regain some degree of happiness in our lives. I am no longer able to move my arms and legs, so everything I write has to be done by eye movement via a camera connected to a computer.
I am deeply unhappy. I want to go home to my loved ones. I chose to live with a respirator because I want to be a dad to my children, to help them, to given them advice and guidance when they need it.
At last, a big thank you for taking the time to read our campaign and support our cause. We will be happy to answer any questions you might have.
Currency Table
This campaign uses Norwegian Kroner as currency. Conversion table below illustrates the relation between some common currencies:
| | | |
| --- | --- | --- |
| 25 USD | 23 EUR | 212 NOK |
| 50 USD | 45 EUR | 423 NOK |
| 100 USD | 90 EUR | 845 NOK |
| 500 USD | 450 EUR | 4 225 NOK |
Alternative Payments Methods
We have received several requests to provide VIPPS and bank details. Here they are:
VIPPS: +47 414 81 722
Bank Payment
From Norway:
Accountnumber: 9713 25 19483
From Europe (SEPA-payment in EUR within EU/EØS):
SWIFT/BIC: SBAKNOBB, Sbanken, 5020 Bergen, Norway.
IBAN: NO 71 9713 25 19483
(Mark it "shared")
From other countries:
SWIFT/BIC: DNBANOKK, DNB, 0021 Oslo, Norway.
IBAN: NO 71 9713 25 19483
Thank you! We love & appreciate your generosity!